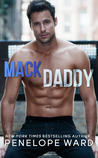 Mack Daddy by Penelope Ward
My rating: 4 of 5 stars
Frankie is ready for the new year to begin at the private school she teaches at. Hearing the buzz about the new father whose son is attending school, Frankie doesn't pay much attention that is until she is greeted by Mackenzie Morrison. Mack was the boy who broke her heart in college and now she has to teach his son. Trying to stay professional is hard but she can do it.
Mack wants Frankie, he has loved her for years and regrets the hurt he caused. He wants his second chance but Frankie has a boyfriend that she lives with. Will Mack be able to convince Frankie into giving him a shot or did he lose his chance?
Overall liked this, it goes back and forth from past to present where you get to know Frankie and Mack and what happened. I did not like the fact that Frankie was in a relationship, wouldn't say she was cheating because she was very open about what was going on but would have preferred she was single. Entertaining.