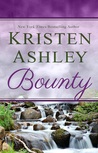 Bounty by Kristen Ashley
My rating: 5 of 5 stars
Justice Lonesome saw Deke Hightower years ago, he was a profound moment in her life. Years later she sees Deke again, in her new hometown of Carnal, Colorado. Deke doesn't remember who though and while he is working on construction in her house, his curt responses to her has Justice well aware he doesn't want to get to know her.
Deke doesn't deny he is attracted to Justice, but she is out of his league. He was burned before by a rich girl and he knows it is just a matter of time before she shows her true colors. Time passes and Deke begins to realize he is wrong about Justice and when she is attacked, Deke is by her side and he has no plan to leave that side.
This was just the book I had been looking for, I was swept away and loved this couple. Justice is a powerful heroine who is up there on all time favorites. Loved Deke, he is kind of a grumbly bear but has a side to him that I did not see coming. A definite favorite.