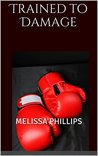 Trained To Damage by Melissa Phillips
My rating: 3 of 5 stars
Cayden Williams never met a woman he didn't want, no strings attached fun is all he needs. When he is asked to come into a Teen Center to speak as a mentor, he meets the stunning Anna Thompson. He knows instantly she is a good girl and as he flirts his way to get close to her, he knows she is the type of girl who is looking for ever after, he can't do that.
Trying to stay away, Cayden realizes he has lost a battle and the only way to win is to give relationships a try with Anna. It is not smooth sailing as Cayden has no experience and it doesn't help he has a former lover who is creating havoc. As they navigate through though Cayden and Anna are falling hard for one another.
I would have given this 4 stars but it had a cliffhanger ending. I really wish they would have a warning label because I had no clue this was a series, novella. Overall I liked this book, Cayden is a man whose past defines him and he doesn't want a repeat of it. Loved the kids in the story, real problems and I thought the overall concept was intriguing. Hope the sequel comes out soon.