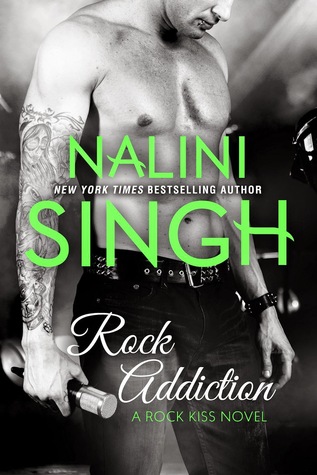 Rock Addiction by Nalini Singh will be released on September 9th and will be available for pre-order on both Amazon and iTunes.  If you have time/room in the next few days to share with your followers we would appreciate it.
Amazon: http://amzn.to/1rsARP0
iTunes: http://bit.ly/1ng9zE9
Blurb
New York Times bestselling author Nalini Singh stuns with a sizzling contemporary romance…
A bad boy wrapped in a sexy, muscled, grown-up package might be worth a little risk…
Molly Webster has always followed the rules. After an ugly scandal tore apart her childhood and made her the focus of the media's harsh spotlight, she vowed to live an ordinary life. No fame. No impropriety. No pain. Then she meets Zachary Fox, a tattooed bad boy rocker with a voice like whiskey and sin, and a touch that could become an addiction.
A one-night stand with the hottest rock star on the planet, that's all it was meant to be…
Fox promises scorching heat and dangerous pleasure, coaxing Molly to extend their one-night stand into a one-month fling. After that, he'll be gone forever, his life never again intersecting with her own. Sex and sin and sensual indulgence, all with an expiration date. No ties, no regrets. Too late, Molly realizes it isn't only her body that's become addicted to Fox, but her heart…
Review
The second rock star Zachary Fox saw Molly Webster, he knew she was different. Fox oozes sex, he is demanding in bed, and he wants Molly. Molly has little experience and believes this is to be a one night stand, however she has no idea Fox has other ideas. Fox wants to see where life with Molly will lead, but she has some solid wall around her that needs to be carefully taken apart.
Molly lives a life where she knows she will never be in the spotlight again, a librarian who can live life under the radar but when Fox suggest a one month stand instead of one night she finds herself agreeing. Molly is falling for the dynamic and complex man.
I loved that this was not one sided, Fox has a few ghosts of his own. This was everything I was looking for for a Nalini Singh book, I have read several of her paranormal books and was curious how she would cross over, she does it brilliantly. Fox is foxy…if it were Christmas would be asking for him in my stocking. Molly is gun shy which I appreciated, she could have been a groupie type or easily fallen in and she hesitates which I thought added layers to the story. Excellent read, can't wait for more in the Rock Kiss series.