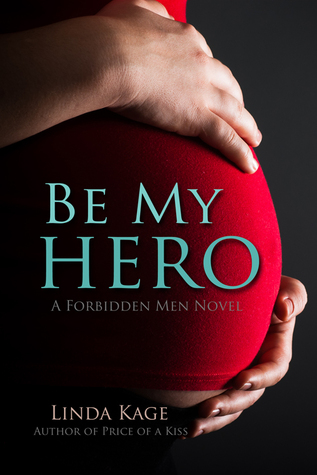 BE MY HERO BY LINDA KAGE
Series – The Forbidden Men – Book Three (Eva and Pick)
Release Date – Aug 25
Length – 122,000 words aka 380 pages
Genre – Contemporary New Adult Romance
Blurb –
Once upon a time, there was this pampered rich girl who was kind of full of herself. She really only cared about appearances and hiding all her dark, ugly secrets under the guise of an opinionated snob. But then Eva Mercer got pregnant, shot by a psycho, and kicked out of the only home she knew. Now she's broke, unemployed, and has to start anew with a newborn to raise. But how?
On the other side of town, sexy, tattooed orphan, Patrick Ryan, can't get a break. He's out on parole for defending the last damsel in distress while trying to help her support her child, but all he wants is to find his one true love. He knows this woman by scent, smile, and laugh, but he's never actually met her. He doesn't even know her name. He just knows she's the key to fixing everything.
One kind of hero can save you from physical harm. Another can rescue you from a different kind of doom. To reach their dreams, Eva and Pick can save each other. But first, they must open their hearts and learn how to trust.
Review
Raised in dysfunction, Patrick "Pick" Ryan thought nothing of protecting his best friend who had received a reading from a psychic that left her ready to leave life early. He was a young boy at the time, but when the psychic caught him she altered his life forever showing him a glimpse of his future.
Life had not been what Pick had wanted, his Tink had not shown herself and now he is helping his best friend raise her child. In one instant he finds himself regretting his decision when Tink walks into his life. Eva "Tink" Mercer is pregnant and the child is not Picks. Pick can't stay away and Eva needs a friend, together they find a calm neither has ever experienced and that they don't want to let go of, even if it means they can only be friends. However fate has a wonderful way of intervening and maybe both will get their wish, each other.
Best in series so far. I am gaga over Pick, he is what a hero is meant to be. The story is filled with humor, romance, drama, and previous characters who I fell for in the previous book. Excellent read, best by far of what I have read by Linda Kage she always exceeds my expectations.
SURVIVING LOVE BY ADA FROST
Series – Surviving Series – Book Two
Release Date – Aug 25
Length – 92,000 words
Genre – Contemporary Romance
Blurb –
What do you do when you find out you're pregnant, your boyfriend rejects you, your sister is beaten half to death and the most annoyingly gorgeous man takes up residence in your house? Well ladies, there is only one thing to do, pull up your big girl knickers and show the world your middle finger.
Louise Beaumont is renowned for her sharp wit, smart mouth and sassy personality. She comes out swinging in an argument, even when she's wrong. But even some events in life can knock her on her arse. And fighting through the sludge of emotional pressure she's had poured over her is taking its toll.
Johan Senior is broken. A man with a deeply traumatic past, shadows and monsters haunt his every waking hour. That is until a heavenly angel is sent in the form of a loud mouthed chestnut haired vixen, who threatens his manhood countless times. But his heart grabs onto her and refuses to let her go. The only problem is, his mind needs to allow him the pleasure of human touch, and to take that terrifying step of allowing someone into his heart.
Review
Broken, that is exactly what Johan Senior is. Everything he touches seems to crumble and now a close friend is on the brink of death. When Louise Beaumont tries to console Johan, she is torn because she had always thought of Johan as annoying, but now she is seeing another side of him that she finds endearing.
Pregnant with an absent boyfriend, Louise has enough on her plate. With her sister in a coma, she needs some support and finds it in Johan. As their life as friends changes Johan knows he can never give Louise the one thing she wants, intimacy. Louise though believes Johan has to face his past in order to have a full life with or without her.
This is a story that is about hope, I thought for Johan all would be lost but he finds that small glimmer to hold onto, Louise. Louise initially is distant with Johan but when she begins to understand him, everything fits into place. New to me author, look forward to reading more of her work.